Classic hardware to replicate the authentic 19th century window style
Residence 9 traditional look hardware gives a classic appearance that meets modern security standards. Monkey tail and pear drop handles add charming detail to an otherwise contemporary system.Traditional style hardware is ideal for heritage style properties but if you live in a more modern property, such as a town house, you might want to go for standard cranked handles to create a cleaner, simpler finish.
Handle options
Residence 9 can be fitted with standard cranked handles or to further recreate the 19th century window style, decorative Pear Drop and Monkey Tail designs are available. The 'cranked' range has seven colours to choose from including White, Black, Hardex Gold, Hardex Chrome and Antique Black. The Pear Drop handle is available in Black and Pewter Patina with the option of matching friction stays. And the Monkey Tail handle is available in Black (with matching friction stay) and Antique Black (no matching stay).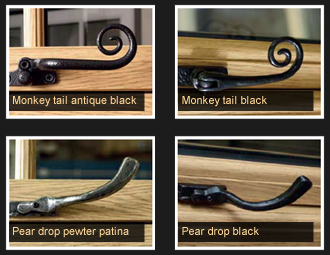 Retaining stay options
Retaining stays for Residence 9 are supplied loose for fitting on site. There is an option to upgrade the standard friction hinges to Easy Clean, Mega Trojan heavy duty and functional or dummy butt hinges. Functional Butt hinges replace the friction stay and are suitable for side hung sashes only. Using the 'functional retaining stay' with this option is recommended.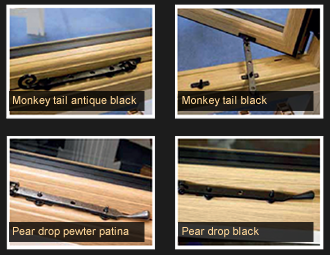 Sash joints
Residence 9 sashes can be manufactured with either welded corner joints or with the more traditional mechanically jointed corners for a more authentic timber sash appearance.